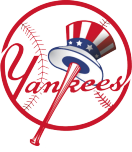 The Yankees are holding the Annual Scout Day at Yankee Stadium – SATURDAY MAY 31st at 1PM.  They Play The Minnesota Twins.  Attached is a cool flyer.
The Yanks Will Show Appreciation By Presenting the Scouts on the Field (In Uniform) – and Having Them on The Jumbo Screen!
Don't Miss This Opportunity. The Yankees Have Been So Generous Towards The Scouts, and We Would Like To Show Our Appreciation Back By Having As Many Scouts As We Can!